N-TEK Capabilities
Rack & Barrel Plating
1,000 pound Hoist Capacity
24 hour turnaround on all small lot orders
In House Lab to maintain the proper levels of concentration for superior performance and results
State of the art XRF x-ray measurement equipment to insure proper thickness is deposited
Hydrogen embrittlement relief baking
Special Proto-type and mixed lot pricing
Selective plating and masking
Solderability Testing
Local Pick-up & Delivery available
At N-TEK Plating we understand that it's the many parts that make a whole product. That's why we take the extra steps to ensure our customers get the best metal plating services possible.
90/10 Plating
Cable Plating
Connector Plating
Nickel Plating Services
Precious metal Plating
Silver Plating
Tin Plating
Matte Tin Plating
Electroless Nickel Plating
Gold Plating
Hoist Plating
Passivation of Stainless Steel
Rack Plating
Nickel Plating
RoHS Tin Plating
Solder Plating ………..and more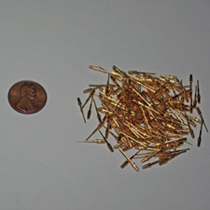 Gold Plated Parts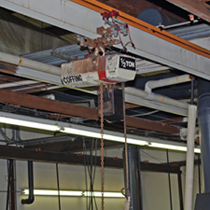 Nickel Plating Up
To 1,000 lbs.
In addition to our wide variety of plating capabilities, the metal finishers at N-TEK plating are also experienced with a wide variety of plating materials and substrates. This allows us to provide the exact metal plating needed for even the most demanding applications. No matter how complex your specifications, or demanding your industry, we always enjoy a challenge and can plate parts of various shapes and sizes. From small microscopic pieces, to large pieces up to 1,000 pounds, if you have it— there's a likelihood that we can plate it.
60/40 Plating
Barrel Plating
Connector Plating
Gold Plating
Industrial Plating
Passivation of Stainless Steel
Rack Plating
Nickel Plating
RoHS Tin Plating
Solder Plating
90/10 Plating
Cable Plating
Electroless Nickel Plating
Hoist Plating
Nickel Plating Services
Precious metal Plating
Silver Plating
Tin Plating
Matte Tin Plating
…and more
N-Tek Inc. offers metal plating and finishing services including: electroless nickel, tin, sulfamate nickel, gold, silver, copper, nickel, 60/40 and 90/10 Tin Lead, passivation of stainless steel, solder plating, rohs tin, rack, cable...and much more.
Lawrence, MA Website Design Development